Welcome to the most comprehensive guide to best fitness bands under ₹3000 in India.
To compile this ultimate guide, we checked more than a hundred products and thousands of customer reviews on e-commerce websites.
These best budget fitness bands from top brands will make you aware of your health and fitness activities at an affordable price tag.
Let us get started!
You're here: Home > Best Fitness Bands
The Best Fitness Bands in India
This section features some of the highest-rated fitness bands or activity trackers. All these fitness bands are available online in India on e-commerce websites.
For the sack of navigation, we have divided this list of best activity trackers in India into various price ranges. Thus, if you have any budget constraints, you can directly refer to that section. Alternatively, if you have a budget of at least ₹3000, you can check all fitness bands.
Pro Tip: If you like any of the fitness bands featured in this guide, we recommend you to add it into your cart on e-commerce platforms or bookmark the product page URL by pressing ctrl+d in Windows and ⌘ + d in Mac. This will serve two benefits. One, you will have all your selected watches in one place. Two, you will be able to track price changes more effectively.
Best Fitness Bands Under ₹3000 in India
Our Pick: Honor Band 5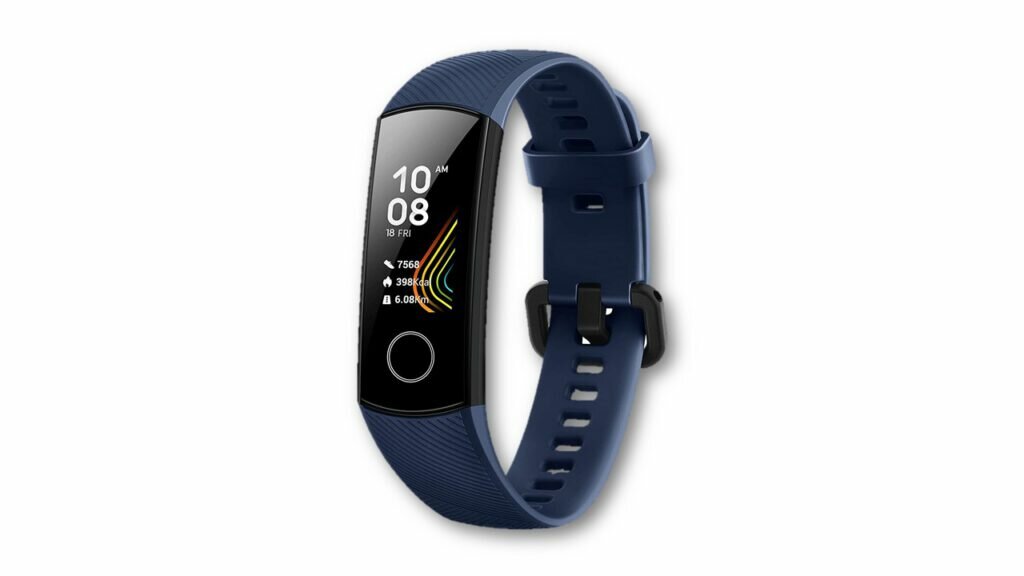 The Honor Band 5 is the latest fitness band from Honor. It packs the most essential features for better health at an affordable price.
The AMOLED display is like its previous generation. However, it still boasts superior specifications like the latest bands from other brands. The entire display is responsive to touch and even support gestures for navigation.
On top of this 240×120 display is 2.5D curved glass. Beneath the display is the home button. It allows you to come back on home screen from various activities and settings.
It supports both indoor and outdoor activities. Other than the basic walking and running, it can also track some advance activities. The list includes cycling, swimming, free training, rowing machine, and an elliptical trainer. Moreover, you can set goals for some of these individual activities.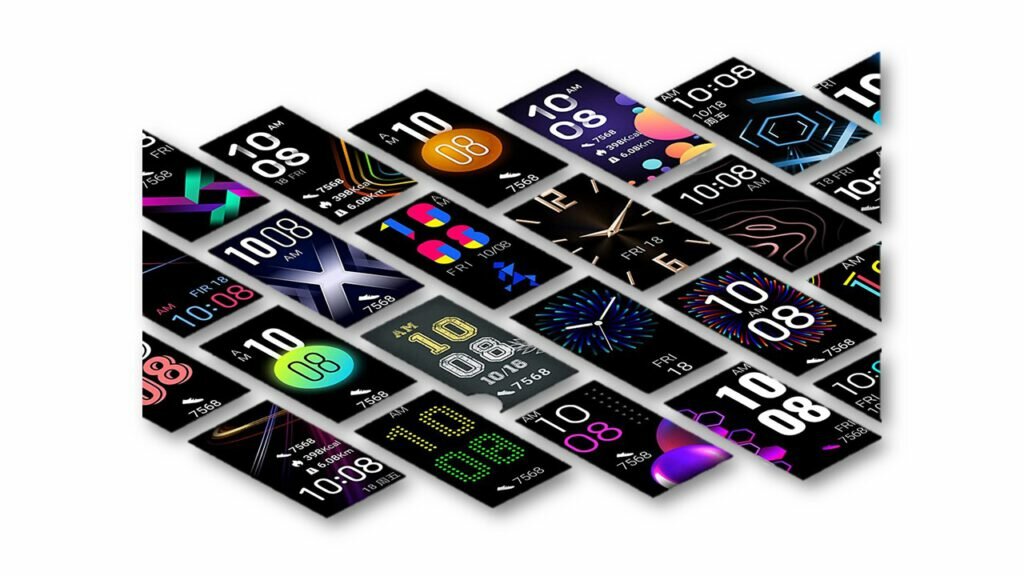 This latest fitness band from Honor has three prominent features.
The first one is you can check the oxygen level in your blood with SPO2 monitor. It will enable you to see your tolerance for increased physical activity.
Next is continuous optical heart rate monitoring. This feature allows you to see fluctuations in your heart rate throughout the day. It is more considerable for individuals who go to the gym or do exercise at home.
The silicon rubber build of straps make them slim, durable and lightweight (23grams). This convenient build makes the band comfortable to wear while going to sleep.
Hence, the third prominent feature, sleep tracking, appears. Other than the convenience while sleeping, Huawei's TruSleep algorithm makes it exceptional. It not only tracks your long night sleeps but also afternoon and evening naps.
When all these three features are enabled, you get a battery life of about 7-8 days. If you use it for usual activity tracking purpose, the battery performance doubles up to 14 days.
Other than these health-related features, it also accommodates some significant utilities.
The first one is 'raise to wake' feature. It makes it easy to see time and other essential data at a glance without draining the battery. The essential data includes calorie burned, steps taken, active time, and distance covered.
The second one is its support for music controls. It can play the next song, change volume, show name of the song, and so forth.
Another great feature is 'find my phone'. It can be handy for someone like me, who frequently misplaces the smartphone.
Huawei Health, its companion app for Android and iOS, allows many customisations. Some extra features like vibrating alarm can only be set from its app.
It is water-resistant up to 50M, which means you can wear it while going for a bath or swimming.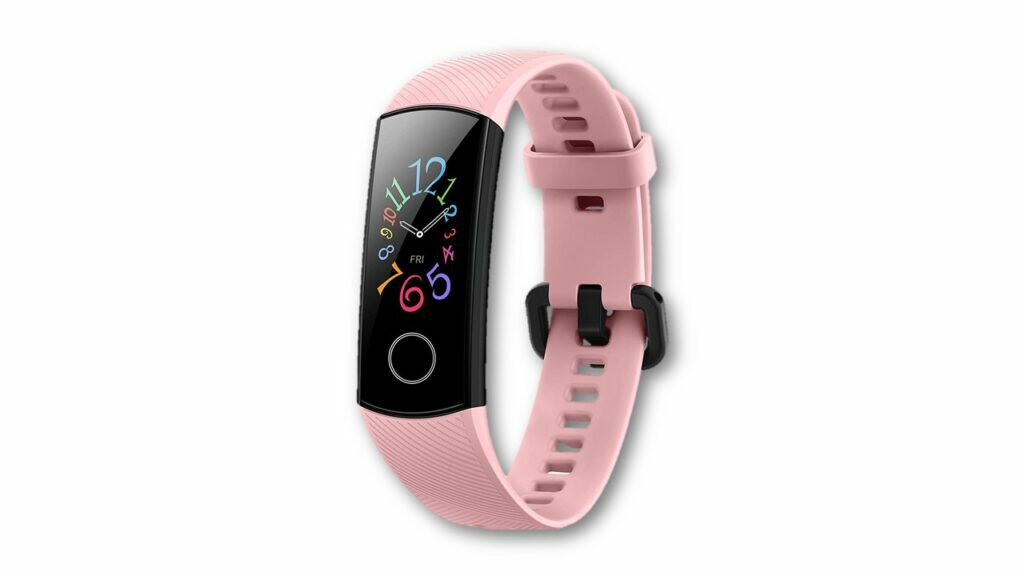 Available colour options include navy blue, olive green, meteorite black, and coral pink. Besides, hundreds of watch faces ranging from analogue to digital are available.
Originally priced for ₹2600, it is currently available at ₹2200.
View Price and Ratings
Related: Do you want to see the best watches for Girls? Check out this in-depth guide: The Best Watches for Girls in India
Runner Up: Xiaomi Mi Band 5

India's number one fitness band for a reason, the Mi Smart band 5 is one the best fitness band under Rs.2500 for many reasons.
The build is simple yet sturdy, along with a waterproof rating, which permits users to wear the band and swim without worry.
Other than that, the Mi Smart Band 5 features a massive full-touch display panel, with a bright AMOLED screen that gives out vibrant colours. The brightness is also adjustable, leaving you with no compromise in terms of your need of a display for every occasion.

There are eleven physical activity modes present in this fitness band under ₹2500. It includes traditional activities like outdoor running, treadmill, exercise, walking, swimming, and cycling. In addition, this latest version support yoga, rowing machine, and jump rope.
Moreover, it has a heart rate monitor that sends you an alert when the heart rate is higher than usual. The sleep monitor detects the pattern of your sleep as well, about how well you are sleeping.
Social media notifications, reject or silence the calls, choosing an image from the gallery as your watch face or other watch faces available, music controls and two week battery life are features that make the Mi Smart Band 5 a great choice for a fitness band under Rs.2500.
The Mi 5 band also features personal activity intelligence (PAI) and women's health tracking. Both of these new features will be handy in taking your fitness and health measurement to next level.
View Price and Ratings
Other Option

Pro Tip: If you want to see the best smartwatches in India (excluding fitness bands)? You can check this guide: The Best Smartwatches in India
Best Fitness Bands Under ₹2000
Our Pick: Honor Band 5i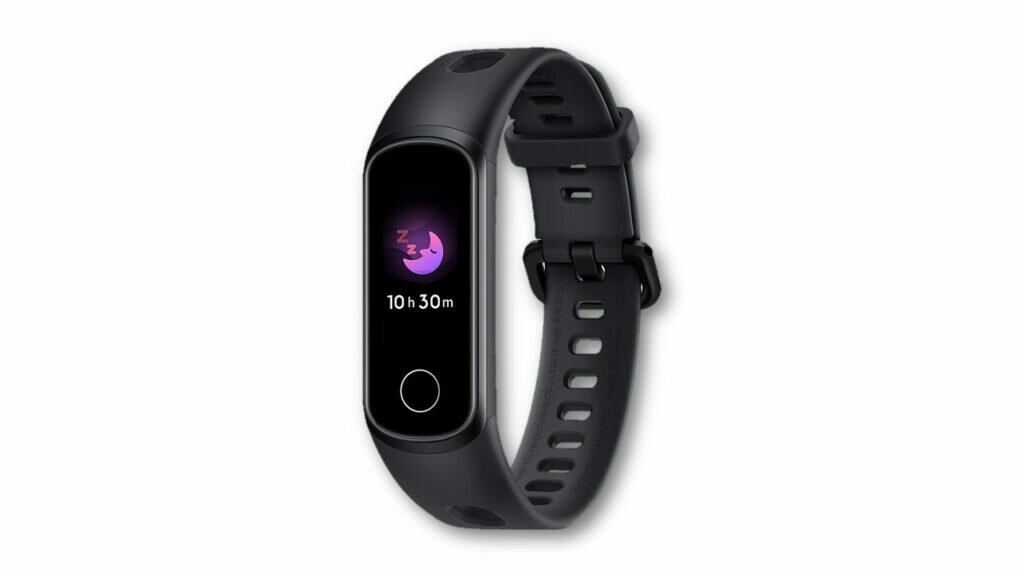 A great product offering from Huawei, the Honor Band 5i is a mind-blowing option and simply the best fitness band under the Rs.2000 price bracket.
Featuring a 0.96 inch TFT Full Colour Touchscreen with a Home button, the Honor Band 5i allows adjustable screen brightness with a vivid display. In comparison, the more expensive Honor Band 5 has a 0.95-inch touchscreen, but an AMOLED display.
The TruSleep sleep monitoring feature collects your sleep status data for analysis. While the heart rate monitoring feature provides an accurate 24-hour status of heart rate.
The SpO2 monitor in Honor Band 5i is a feature, which tracks the oxygen saturation in your bloodstream, which is neat.
There are multiple fitness modes as well that include outdoor run, indoor run, outdoor walk, indoor cycling, indoor run, elliptical, power workout and fitness training. This solidly built fitness band is also water-resistant up to 50 meters. As a result, you do not have to worry about it getting splashes or damage because of sweat.
The battery life has a stand-by time of about a week, which is not at all bad given its features. It can be charged through a built-in USB under the longer strap of this band. This charging method is a highly convenient feature as there is no need for a charging cable, as in Honor Band 5.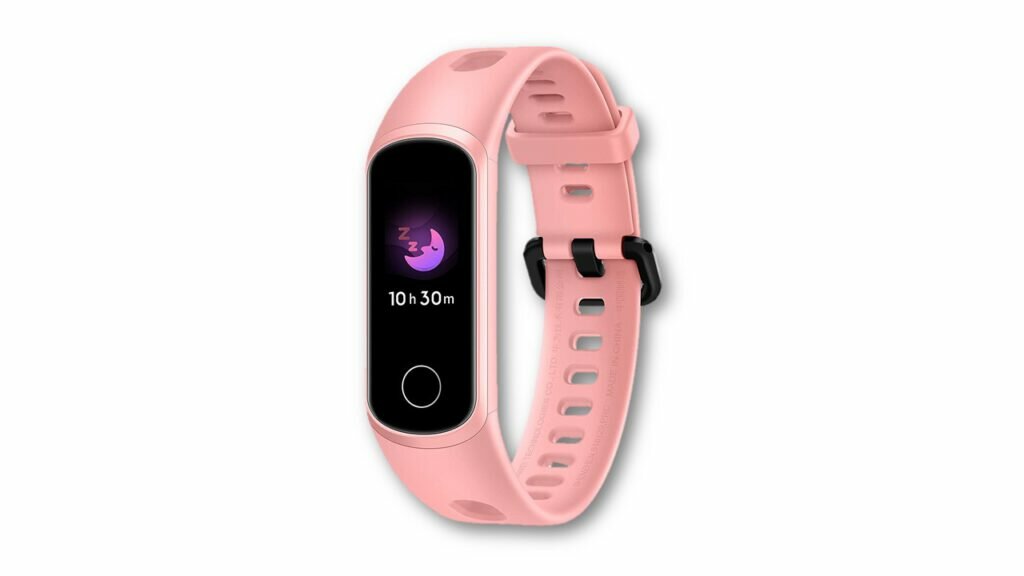 In terms of notifications and watch faces too, both the Honor 5 and the Honor Band 5i have the same functions. Calls, messages, social media notifications and more than 60 watch faces from the Huawei Health App are the same, but the Honor 5i does not support the NFC version, which supports access cards.
The daily activity monitoring and tracking like calories burnt, total steps, distance covered, duration of moderate and high-intensity workouts, and achievement reminder make the Honor Band 5i a formidable product under the price bracket of Rs.2000.
View Price and Ratings
Runner up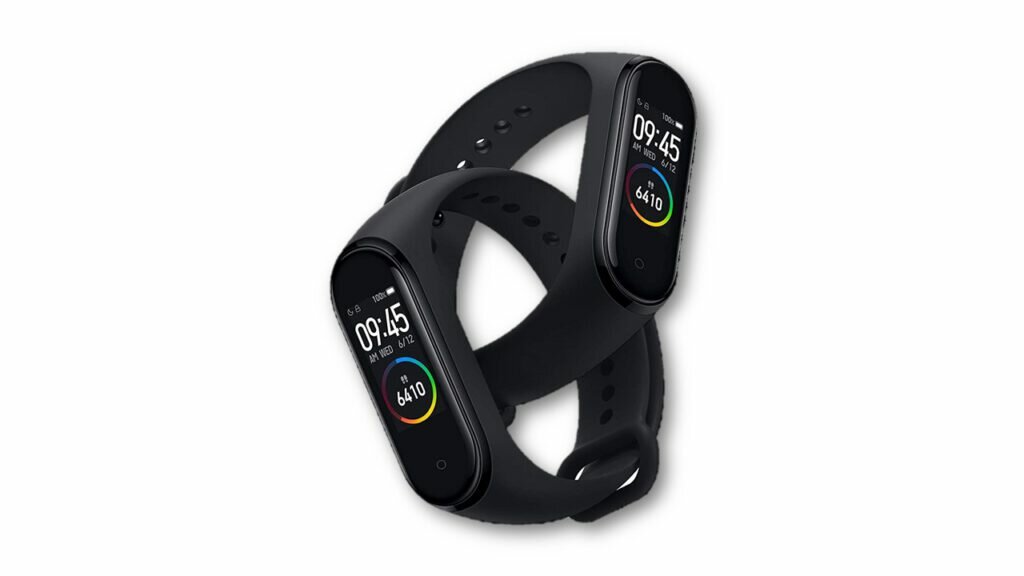 Pro Tip: Do you want to see the best watches in India under 2000? You can check out this guide: The Best Watches for Men Under ₹2000
Best Fitness Bands Under ₹1500
Our Pick: Xiaomi Band 3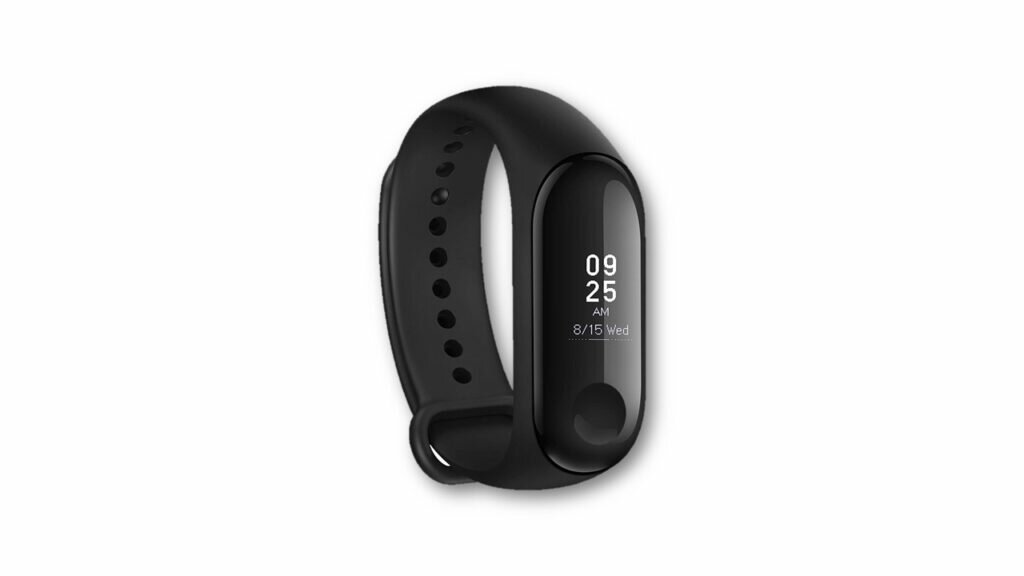 Xiaomi Band 3, launched in 2018, is still one of the best fitness bands under ₹1500 in India.
Are you too thinking why?
Because it is still the most complete package in the price range. Newer models from different brands did come, but they could not sustain themselves in the market due to lack of features in comparison to this fitness band.
Coming with a 110mAh battery, which takes about three hours to get full charged via its proprietary charger, this fitness could last for about 2 weeks on normal usage. When automatic heart rate monitoring, one of its flagship features, is activated, the battery life drops to about a week.
To increase the battery life, you can use either manual heart rate monitoring or automatic monitoring at longer intervals. Word of caution with the optical heart rate monitoring as many users have observed inconsistencies in data.
How is the Xiaomi Band 3 able to give such a battery life? Because it uses Bluetooth 4.2 LE to pair with a mobile device to synchronize the data. Furthermore, it has a 120 X 80 OLED display, which supports swipe gestures for navigation.
The capacitive button on the bottom of the display does two jobs. It can jump you to the home screen on one tap and can start/stop certain activities like heart rate monitor and stopwatch on long press.
You can choose from three different band faces to display time and other basic data. If you need more liberty in the selection of band face, you can check its successor in above price categories. They have hundreds of watch faces and allows for customization.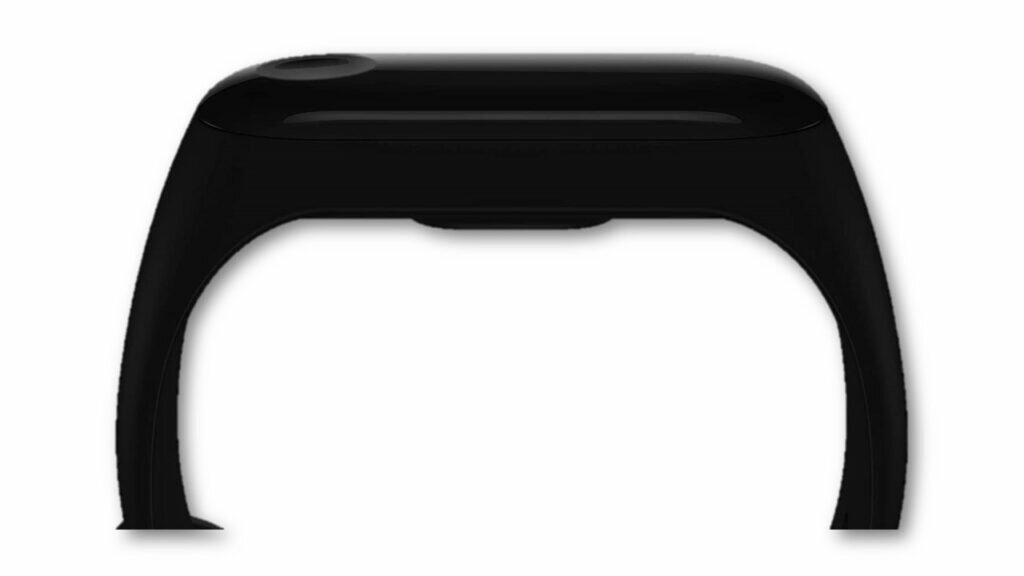 On top of this monochrome display, curved glass is present. Like predecessor and successors, a strong and flexible silicon rubber strap holds the fitness-tracking unit. You can choose the band colour from black, blue, orange, red and pink.
Other than the heart rate monitoring, it can track your sleep, steps, calorie burned, and some other basic activities through the companion app, Mi Fit. It can track distance covered in walking and running but due to absence native GPS, it can be inaccurate sometimes.
In addition to these fitness-related features, it has handy utilities to make your life easier. These include silent toggle (allows you to silent or ring your mobile), see notifications, three-day weather forecast, vibrating alarm, stopwatch, raise to wake, and find my phone.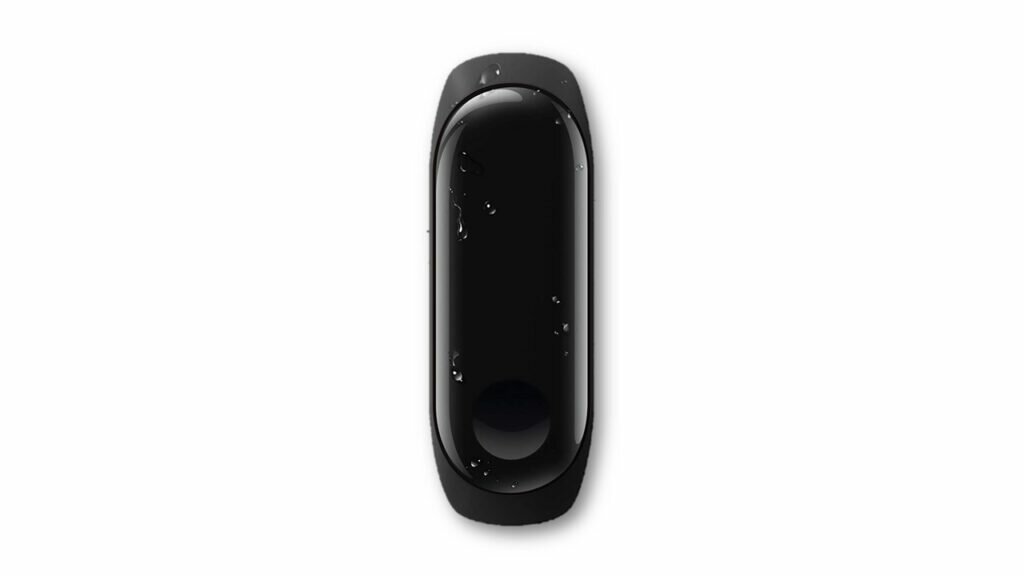 In short, if you are looking for a durable, water-resistant, and easy to use fitness band under ₹1500, nothing gets better than this solid Xiaomi Band 3.
View Price and Ratings
Runner Up: Realme Band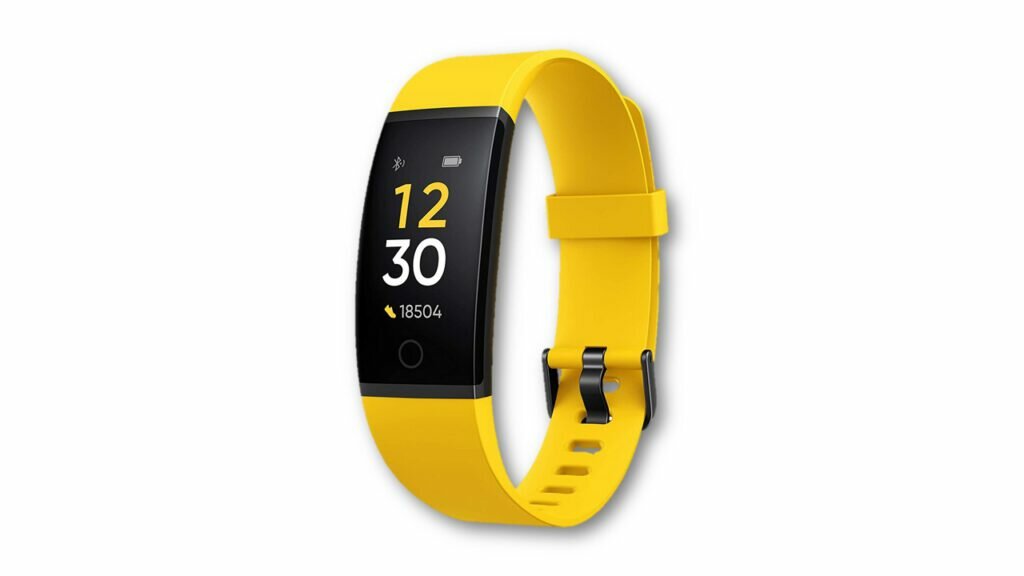 Realme has gained a reputation for creating budget-friendly products with exceptional quality. The Realme fitness band is no different and is the best fitness band under Rs.1500.
The display of this band is 0.96 inch and displays more than 65,000 colours in vivid detail.
The home button on touch screen is easy to operate. You tap on it once to choose the next option and a long press to check different aspects in a specific option.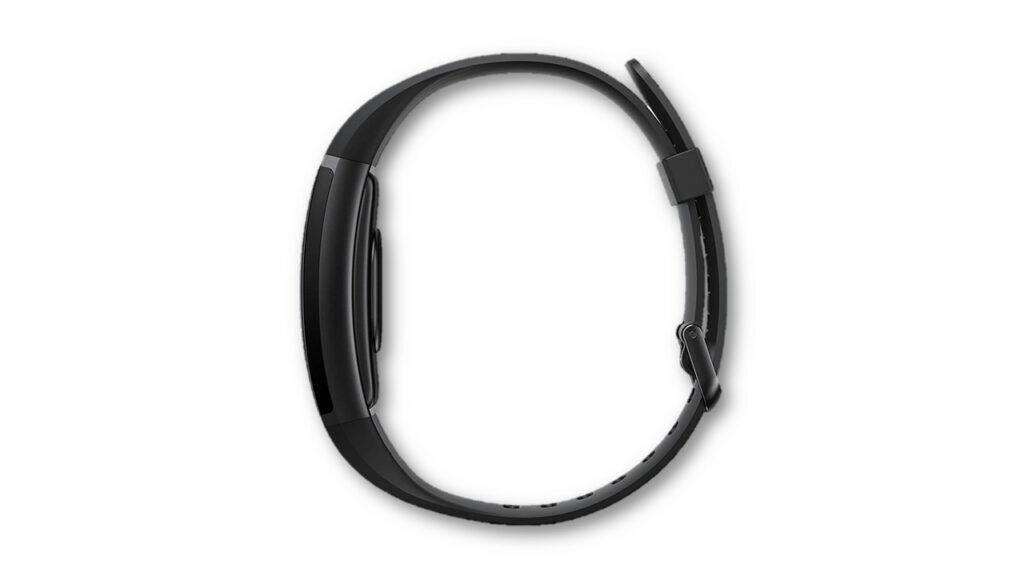 The battery life is more than generous, offering a ten-day backup on a single charge.
On the back, it features an optical heart rate monitor. Some of the activities, which it supports, include running, yoga, walking, and cricket.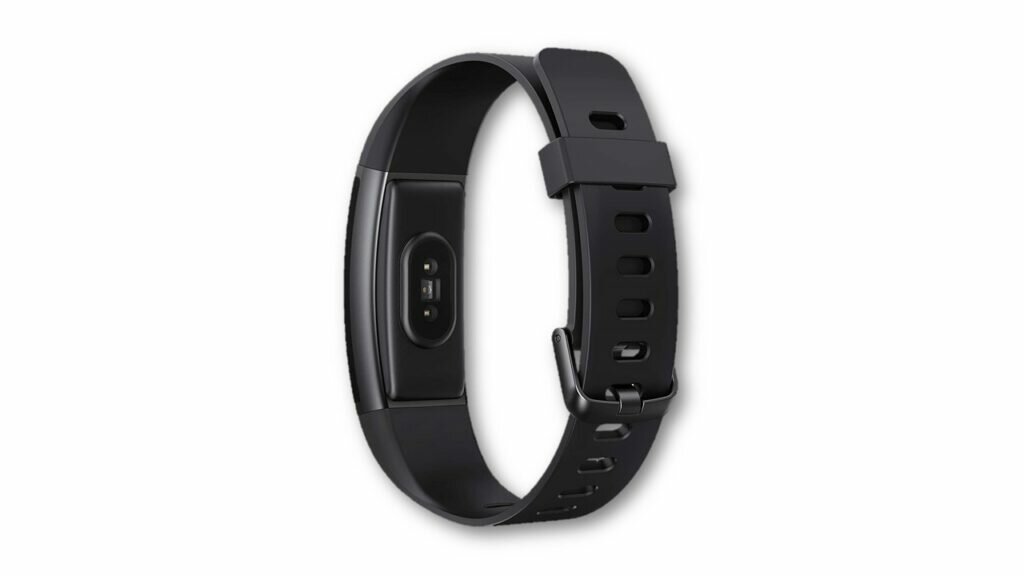 It has a notification option to bring the latest updates on your wrist in a simple way without any hassle. It supports notifications for calls, SMS, WhatsApp, and other social media apps.
Are you a budget band buyer who does not wish to compromise on both quality and functions? The Realme band is a very workable option for you.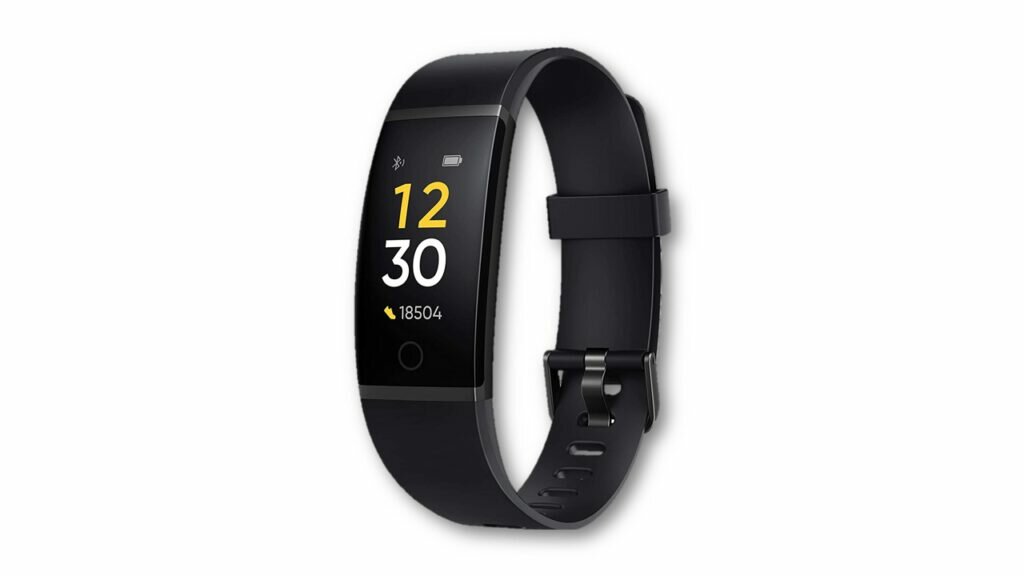 Why? It has sturdy build quality, friendly display and a reliable bundle of health-related functions. Moreover, this fitness band is available in black, green and yellow colour options. Buy it now in your favourite colour.
View Price and Ratings
Best Fitness Band Under ₹1000
Our Pick: Sonata SF Rush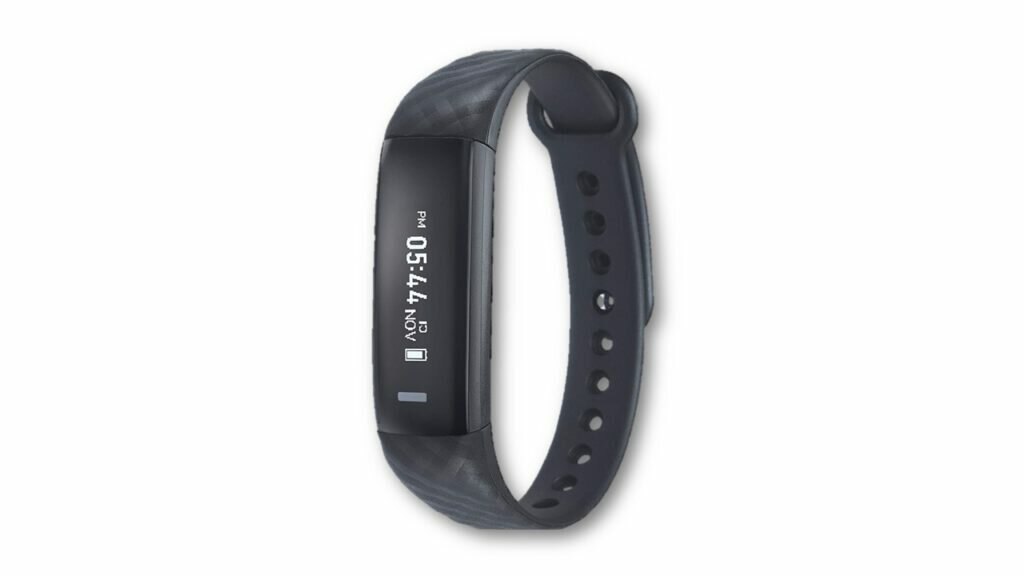 Are you looking for an entry-level fitness band from a trusted brand? The Sonata SF Rush can be a great choice. At around ₹800, it is the most affordable fitness band, which can do the fundamental activity tracking.
Let us start by talking about its build. The plastic case has acrylic glass on top. Surrounding the case are rubber straps with a fine texture on them.
To charge the band, you have to access the USB port by detaching the upper strap. Since you can charge it on any USB port (including your laptop ports or mobile charger), it is more convenient than other bands for which you have to carry a proprietary charger.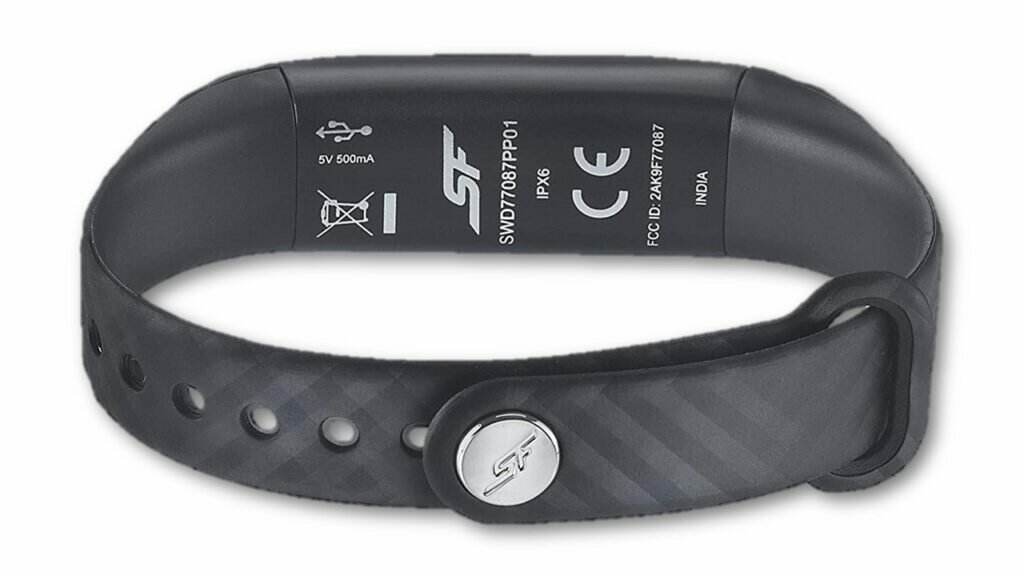 It is IPX6 water-resistant, which protects it from high-pressure sprays of water.
The app tracks step taken, calorie burned, active time, goal progress, and sleep time. At this price point of ₹800, we cannot expect it to track heart rate or multiple activities.
Moving on, the mono-coloured OLED display give basic information about your activities. You can scroll through different screens via a button.
Its companion app, SF Rush, is available for both Android and iOS. The app allows you to set up vibrating alarm and do an analysis of your activities and sleep. Further, if you want to customization in the band, you have to do it in the app only.
The app has a social touch on it to motivate you for high activity. You compete with other people in your city on the leader board and earn badges for achieving goals.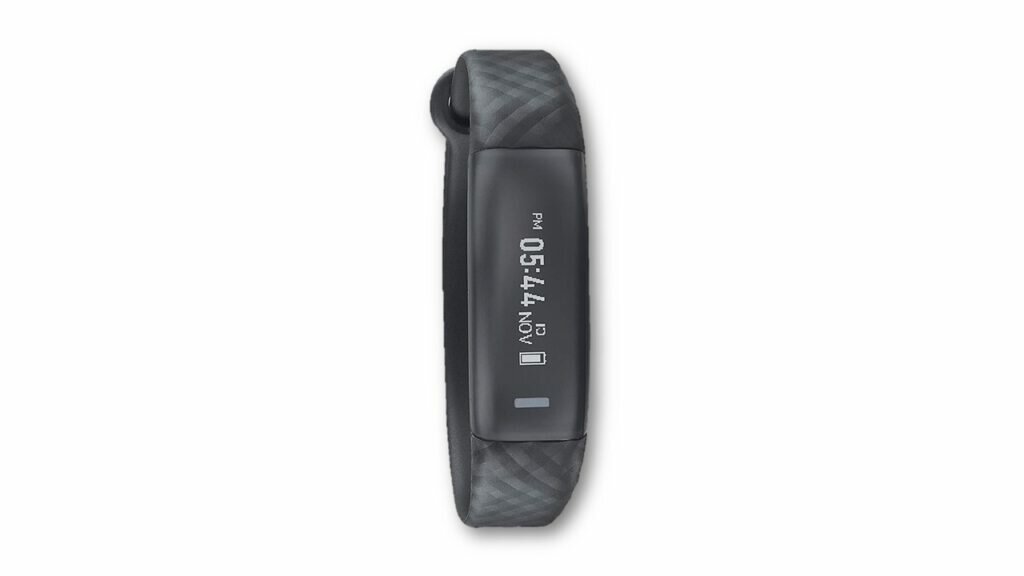 With all of this, you get a 24-month manufacturer warranty.
Summing up, if you want to enter the fitness band community at the lowest price, SF Rush is for you. Grab it now.
Buy on Amazon
Suggested Reading: If you can spend about ₹5000 on a quality fitness product, please read this guide: The Best Smartwatches Under ₹5000
Pro Tip: Don't have a budget of more than ₹500? Check out this guide: The Best Watches Under ₹500
The Comprehensive Guide to Buying Best Fitness Band in India
Our hectic schedules have forced us to embrace an unhealthy lifestyle. The effect may not be visible in the short run but are surely detreating our long-term fitness.
At present, what we could do is make small changes in our lifestyle. Walking, swimming, and playing as when possible is the need of the hour.
It is essential to keep a tab on how much calories you are burning through these activities. Moreover, it is significant to know how short you are to fitness goals. Your age, body weight, and height are important factors in setting these fitness goals.
It is where a fitness band, also known as an activity tracker and smart band, comes into play. In general, it keeps track of how much you have walked, your heart rate, calories burned, and active time. Some advance fitness bands even allow seeing oxygen level in the blood. Moreover, of course, it allows you to see time and notifications at a glance. Some latest fitness band permits you to reply to notifications with customizable messages.
All these make it must to have a fitness band on the wrist in 2020. This is why we prepared this comprehensive guide to buy the best fitness bands in India in 2020 with a list of best activity trackers under ₹3000.
This extensive guide has information on several important topics related to fitness bands. We have covered topics like what is a fitness band, why you need a fitness band, how to set objectives for buying a fitness band, and what to look in a fitness band. Besides, we have a section on the best fitness band brands in India.
We know it is a lot. However, to have the best smart band on your wrist, we had to cover everything and we covered.
Let us get started on this long reading!
What is a fitness band?
A fitness band is a mini-computer, which tracks the activities of the wearer to make him/her healthy. It tracks information about but not limited to walking, running, swimming, sleep, and heart rate.
PC Mag, an online computer magazine, puts together a good definition of fitness tracker. It reads "A wrist-worn device that can detect some combination of walking steps, running distance, heart rate, sleep patterns and swimming laps. Fitness bands interact via Bluetooth with an app in a mobile device that configures the device and downloads the wearer's activity data."
Why you need a fitness band?
With the world under a digital cloud, wearable technology has become the new trend. Fitness bands have become the flag-bearers of this new fitness quest among tech lovers. Many tech companies realized this and launched their take on what according to them is a great option.
A few years later, the competition is at an all-time high, and it is hard to pick one particular band as the best fitness band in India.
Still, what exactly is the need for a fitness band?
Here are some of the reasons why you need a fitness band:
Easy to track progress
Fitness bands make it easy to track your progress and keep you on the road to achieve your fitness goals.
It is quite simple to set daily reminders in fitness bands. These reminders act as the perfect motivation for you to lace up your shoes and go ahead.
Workout tips to get better
Fitness bands eliminate the need to take out some time from a busy schedule and focus solely on your workout.
Several fitness bands in India have multiple exercise modes. They help you to get a better idea of any particular activity. Moreover, they can do a comparative analysis customized for you.
Interactive Fitness Band Interfaces
Mostly fitness band in India have an easy to understand interface, which makes it even more effortless to take care of your fitness.
Interfaces are probably the most significant factors in choosing a fitness band. The best interfaces will help you stay motivated without a doubt.
Convenience
Fitness bands are more convenient to wear than smartwatches or regular wristwatches. This convenience becomes more important when you are typing or writing. You do not have to move around hundreds of grams with each keystroke.
The convenience comes from lightweight and slim silicon rubber build.
Setting personal objectives before buying a fitness band
So, you have decided on getting a fitness band for yourself to get fit. Surely, the decision might have taken some time.
There would have been a number of things, which you would have considered on choosing the final fitness band.
While fitness bands are affordable, they constitute a purchase. This purchase however, needs to have a motive.
Therefore, it is best to have some personal objectives in place before you finally get your fitness band.
Some of these objectives can be:
A Better Health
Some individuals have a thing to stay fit.
They are not in bad shape, but the urge to keep working in the direction of staying fit is motivation enough for them.
Are you such an individual or want to become one? Getting a fitness band to monitor your gradual but daily progress will be a wise decision.
Losing Flab
Many people get late in figuring out the threshold when they should have controlled their binge urges. Before they know it, there is a thick layer of flab all over their body.
Being overweight is not a pleasant sensation. If you have realized this, you have picked the right option to go with a fitness band to cut down on your weight.
Little Fitness Related Details
The above two reasons are plausible in terms of buying a fitness band. However, we cannot deny, these bands look sleek and bring in a sophisticated touch to the overall appearance.
In addition, there are many other workout modes and simple health-related options that you might want to have at your disposal.
The decision to buy a fitness band explains a lot then.
What to Look in a fitness band?
The astonishing rate of sales has brought in many players into the fitness band game. These players range from smartphone manufacturers like Samsung and Xiaomi to watchmakers like Fastrack and Timex.
Fitness bands from these brands come with several features and specifications. Not all of them are important to you. Therefore, you need to prioritise them according to your objectives. In the previous section, we have discussed setting up personal objectives.
In this section, we will cover various features and their descriptions, as well as their optimal levels.
Battery Life
Battery life in fitness bands can vary from 6 days to almost 20 days. In general, higher battery life is a result of lack of sensors or poorer quality display and touch. Of course, there are some exceptions, which manages to accommodate must have sensors with great battery life.
Therefore, it is necessary to check high battery-life fitness bands pack what features.
Display
Most of the present fitness bands come in either AMOLED or OLED display. Colourful displays look nice on wrist, whereas monochrome display consumes less battery.
They can either have a single touch button or have full-screen touch support. As you can guess, it is hard to use a single touch-button fitness band. Whereas, touch screen displays come with support for gestures. The later cost you more.
Price
Fitness bands come for as low as ₹600 in India and can cost as high as ₹20,000. Thus, the amount you spend on an activity tracker should depend on what features do you want to have for achieving your objectives.
You can get a good activity tracker for about ₹1500. Some more advanced sensor powered fitness bands are available for about ₹2500. Therefore, we compiled the list of best fitness bands under ₹3000 in India. The price range is affordable and has products that can meet your needs.
Sensors
Fitness bands can accommodate a plethora of sensors for different features. Not all of them are important. Here is a list of some must-have sensors as well as some extra sensors, which can be of great use.
Capacitive Sensors
ECG or Optical Heart Rate Monitor
Gyroscope
Global Positioning System (GPS)
Magnetometer
Barometer
Water-resistance
You will be wearing a fitness band outdoors, when you go for a walk, run, gym, and so forth. There will be sweat, splashes of water, and rain. You do not want to ruin your fitness tracking experience due to any of these. Therefore, water-resistance is a necessary feature in a fitness band.
Additionally, with a water-resistance band, you can track your swimming activity.
The Best Fitness Bands Brands in India
It is important to know the best fitness band brands in India before buying a fitness band. This section will help you in getting a great fitness band at a perfect price point. Also, it helps in avoiding the various fake brands available online.
Here is an alphabetical list:
Fastrack
Honor
Realme
Samsung
Sonata
Xiaomi
Note: We have not included any Samsung fitness band in this list. The reason behind it is that none of the Samsung fitness bands under ₹3000 are currently available in India.
Not sure which watch to buy? Share with friends to get recommendation or to recommend them: